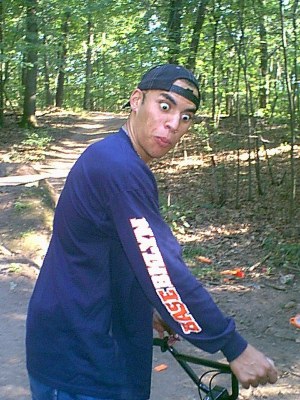 1. Name- Leon Goolsby III
2. Age- 119 in dog years
3. Location- Manchester CT
4. Year riden- 3
5. Kind of frame- Standard STA 500
6. Parts? S&M, Profile, Sunringle and Primo
7. Fav bands- Pantera, Canibus and some good old Metallica
8. Fav videos- Beetle Juice
9. Do you like tacos? I GOT PLENTY YOU WANT SOME?
10. Best/fav trick- One footed x-ups
11. Street/dirt/ramps- All
12. Fav riden spot- Anywhere that has good riden
13. Whats better: style, burliness or tricks? Stylish tricks
14. Dickinthebuttmakeyoudeaf??? I can't hear you
15. Who influences you in you riden?- Everyone I have riden with and keeps on riden
16. Riders you respect/look up to- Nate, Ben, Tom and anyone who loves to ride
17. Fav company- FUBU.......................Just kiddin
18. Anything you want to say?- I GOT PLENTY YOU WANT SOME?????
19. Eh cory?- Eh
20. Any thanks you wanna say to anyone?- Hows a boot........thanks to everyone!